Trust Payments merchants can now accept American Express card payments in Malta
09 December 2020
Malta-based payments company enables merchants to accept the widely used international credit, debit and charge points via its 
Point of Sale
terminals.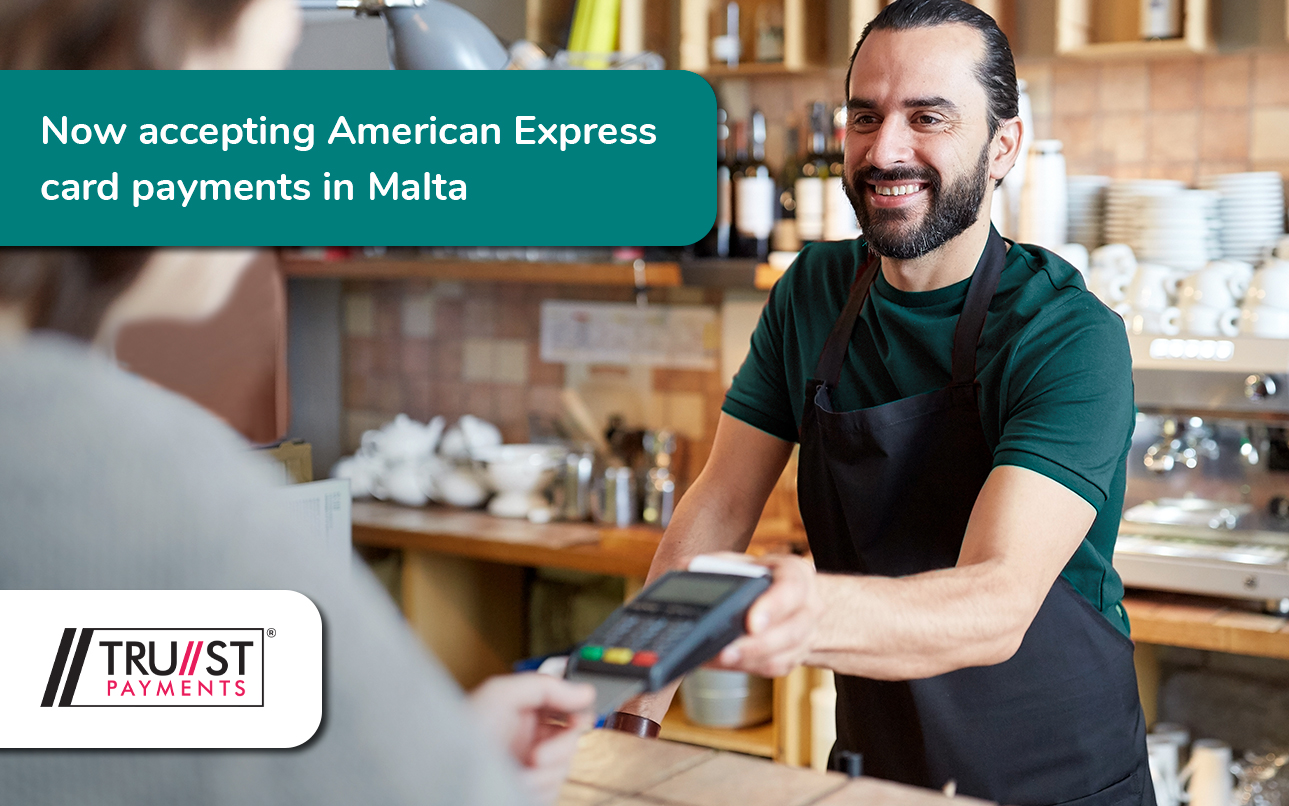 Trust Payments Malta (trading as acquiring.com) today announces the addition of American Express to the growing list of payment types that can be accepted on the company's card terminals in Malta.   
Other payment types accepted by Trust Payments include the ever-present Visa and Mastercard cards as well as emerging methods like Samsung Pay and Apple Pay which are already available on the Trust Payments terminals. Merchants can accept these payment types by chip and PIN, contactless mode, or by using smartphones or wearables.   
"We have worked relentlessly over the past months to support Maltese merchants as best we can to help them quickly adapt to accepting payments which do not require handling the customers' cash or cards to reduce risk of infection. We have added new functionality such as contactless and pay by link, where a merchant would be able to send a link to their customer through social media or email to make a touch-free payment," commented Steve Grech, CEO, Trust Payments Malta. "Now we want merchants to be ready for when the locals are visiting restaurants and retail shops more frequently once again and tourists start visiting Malta. As well as American Express, we recently added Dynamic Currency Conversion; this is where a customer who does not have a Euro card (for example, a pound sterling or dollar card) can select what currency they wish to pay in at the point of sale. Our goal is to help ensure our merchants adapt and our economy does not miss out on any source of income."   
John Pace, Chief Business Development Officer added: "On average, consumers carrying an American Express card spend three times more than consumers who don't, and their average transactions on those cards are 1.7 times higher, according to data provided by American Express. We want merchants in Malta, no matter their size, to be able to optimise the experience and increase loyalty for such customers by being able to accept their preferred payment method."  
Trust Payments introduced their Point of Sale (POS) terminals onto the market in Malta just over a year ago and recently signed a partnership with the Malta Chamber of SMEs, aiming to increase competition on the local market, expand the range of payment options being offered and ultimately lead to reduced costs for shopkeepers and merchants to accept card payments.
To find out more about accepting Amex cards or DCC via the Trust Payments Point of Sale terminal, contact .