The Malta Chamber of SMEs partners with Trust Payments; Works towards improving competition related to card and electronic payments
30 November 2020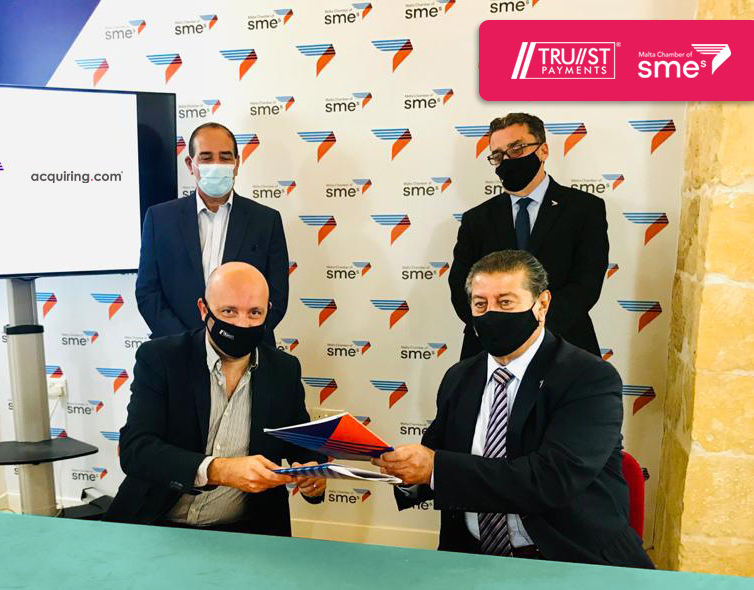 The Malta Chamber of SMEs has today undertaken another step towards embracing competition in the market for cards and electronic payments providers by partnering up with Point of Sale (POS) and payment solutions provider Trust Payments.  The partnership aims to increase competition on the local market, expand the range of payment options being offered and ultimately lead to reduced costs for shopkeepers and merchants to accept card payments.
The drive towards online payments, reducing the use of cash and purchasing as contactless and even at a distance as possible has never been so strong. Covid has made this a basic need and consumer expectation. Some businesses have already shifted and are continuing to shift and strengthening their online presence and online and electronic payment facilities.
Cashless payments present in fact many advantages, yet businesses report an increase in cost on the charges related to card transactions in view of increasing volumes. A study conducted in collaboration with MasterCard just last year in fact found that 33% of merchants pay between 1.5% and 2% while 31% pay over 2% on each transaction. The same study also found that 29% of local merchants still do not accept card payment of which 73% of respondents that do not accept card payments, identified the cost associated with POS machines as a major reason for not accepting card payments. Malta remains one of the countries with the highest use of cash.
The increase in electronic transactions has therefore also resulted in a bigger hidden cost for businesses and consumers, which cost mitigation is a priority, now more than ever in times of economic struggle, to be tackled.
The Malta Chamber of SMEs has in the past years called for more service providers offering electronic payment services to enter the local market with the aim of increasing competition and as a result offering more cost-effective options that would encourage more businesses to offer such facilities.
The President of the Malta Chamber of SMEs Mr. Paul Abela, stated that it is high time for such value for money service in online and electronic payments to be made available on the Maltese market. It has become a priority of national interest to move towards a cashless society as much as possible and encouraging businesses in taking up such initiatives.
Trust Payments Malta CEO Mr. Steven Grech said that "We are delighted to partner with the Malta Chamber of SMEs who represent over 7,000 merchants and who are the leading voice of independent private businesses. We believe our partnership will benefit the Maltese business community as well as consumers at large."
Further information:  
About Trust Payments Group
Trust Payments is a global unified payments group for global pay-in, pay-out and customer journey technologies. Their mission is to help businesses to optimise their sales and customer experience through facilitating speedy and seamless payments. Our single sign-on technology platform can process payments with over 50 global acquiring banks, including their own EU-licenced institution, acquiring.com.
Their community benefits from our 20+ years of payments experience and unrivalled customer focus. Their trusted and robust technology solutions deliver 1.6 bn transactions annually for 7,000 active clients across eCommerce, mobile and Point of Sale (POS) and in 14 like-for-like settlement currencies. They also operate in the US with money transmission services and gaming vendor licences in key regulated markets. Visit us at www.trustpayments.com and www.acquiring.com.