What's next for digital consumers?
26 May 2021
Consumers say they will spend less time in digital channels once the pandemic ends. Here's what it means for companies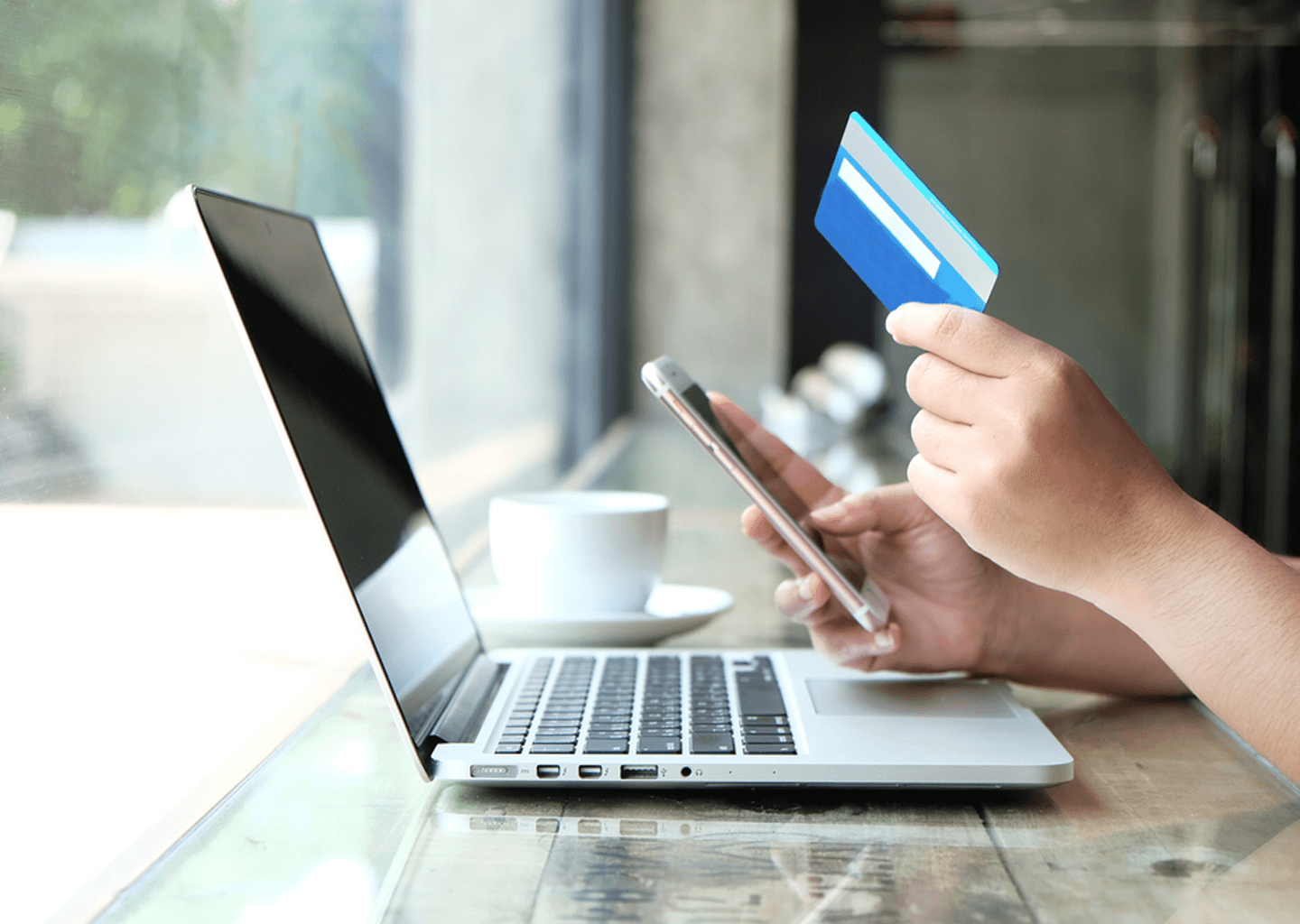 The COVID-19 pandemic has driven rapid adoption of digital channels across countries and industries, but digital's growth has plateaued in the past six months and may begin to slip back once the pandemic eases—even as total digital adoption stays well above prepandemic levels. That's one of the findings from a new McKinsey survey of global consumer sentiment conducted in April 2021. Companies can look to hold on to newly digital consumers by improving digital experiences, investing in "phygital," and putting consumer trust at the heart of all they do.
The survey suggests that industries across regions experienced an average of 20 percent growth in "fully digital" users in the six months ending in April 2021, building on previous gains earlier in the pandemic. During that same time period, it was primarily younger people joining the ranks of digital users.
But, with consumers having reached high levels of digital penetration in most regions and industries, the acceleration into digital channels now seems to have leveled off, with consumers in some industries saying that they will be using digital channels less frequently once the pandemic ends. As a result, even as total digital adoption remains above prepandemic levels, many industries and regions may see a modest negative net change in postpandemic digital use relative to 2020.
The industries most vulnerable to the loss of digital consumers may be those that saw the biggest gains in digital adoption during the pandemic. New adopters had little choice during lockdowns but to embrace digital channels, and the channels they entered were more likely to have been newly built and with a less satisfying user experience than established ones.
The following charts examine the survey findings and shed light on digital users as they emerge from the COVID-19 pandemic into a postpandemic "next normal."
The COVID-19 pandemic has driven unprecedented numbers of consumers into digital channels, but some consumers have begun using those channels less in the six months leading up to April 2021. That may be unsurprising given that consumers during lockdowns had little choice but to shop online, and to turn to at-home-entertainment options. Now that consumers have more freedom to choose, they may express a preference for more physical-channel interactions in certain industries.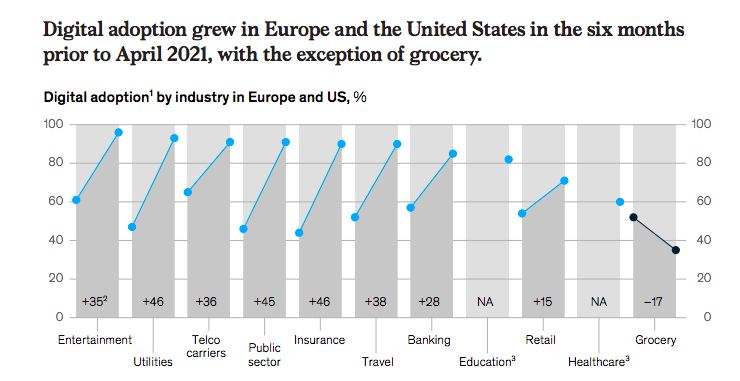 In the six months prior to April 2021, European and US consumers continued to embrace digital channels, as they had done since the start of the pandemic, in nearly every industry. But not all industries experienced the same growth in digital adoption. In both Europe and the United States, digital adoption grew fastest in the utilities and travel industries, which each jumped 46 percent, as well as in the public sector, which grew 45 percent. Digital adoption grew less in the apparel and general retail and telecommunications industries. Grocery, meanwhile, saw increased digital adoption last year, according to our 2020 survey results, but has since experienced a decrease in fully digital behavior. When it comes to growth rates, it's worth noting the obvious: industries that are highly digitized already, such as entertainment, have less room for further growth than industries with low digital adoption, such as grocery.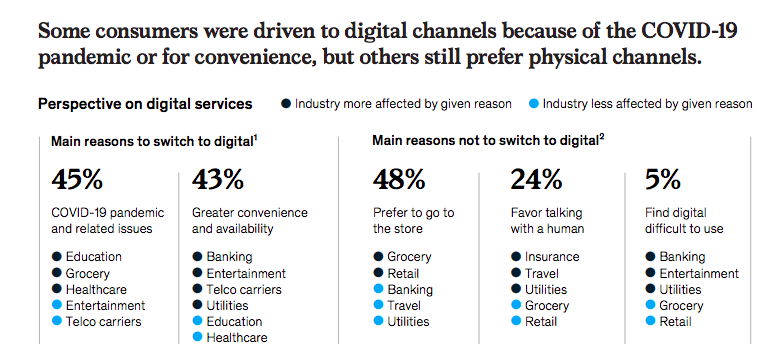 Even if most consumers were driven to digital channels because of the COVID-19 pandemic, the majority of those who continue using those channels will do so for convenience. Other consumers simply prefer the experience of going to a physical store.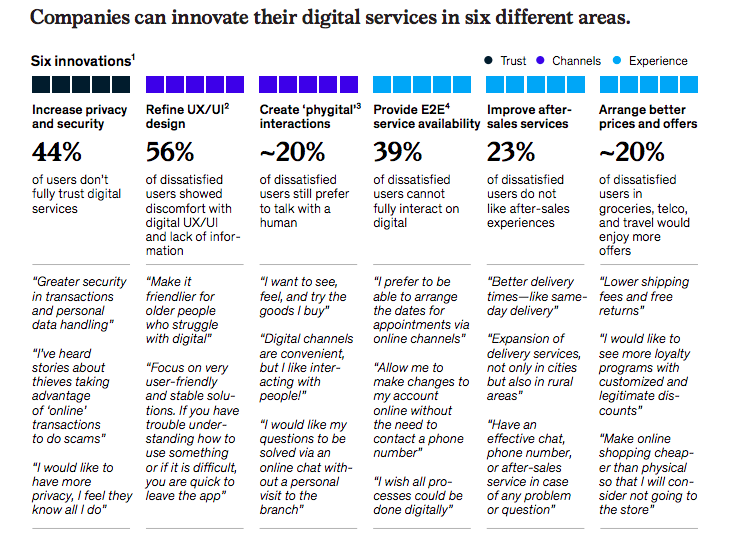 Companies can improve their digital services by innovating around the three dimensions that consumers say matter most: — Improve trust in digital services by increasing privacy and security. About 44% of consumers surveyed don't fully trust digital services. — Improve the user experience in digital channels by refining user interfaces (UX/UI) and by creating phygital interactions, at least some of which (for example, high-ticket or complicatedto-purchase items) may involve a human agent. About 56% of dissatisfied users conveyed discomfort with digital UX/UI or lack of sufficient information about, for instance, products and services. — Improve the end-to-end consumer experience by making all products and services digitally available, by improving after-sales services, and by offering better prices and deals in digital channels. Some 39% of dissatisfied users say that they can't accomplish everything they intend in digital channels, and roughly 20% of dissatisfied users want to mix online chat with a human into their digital interactions.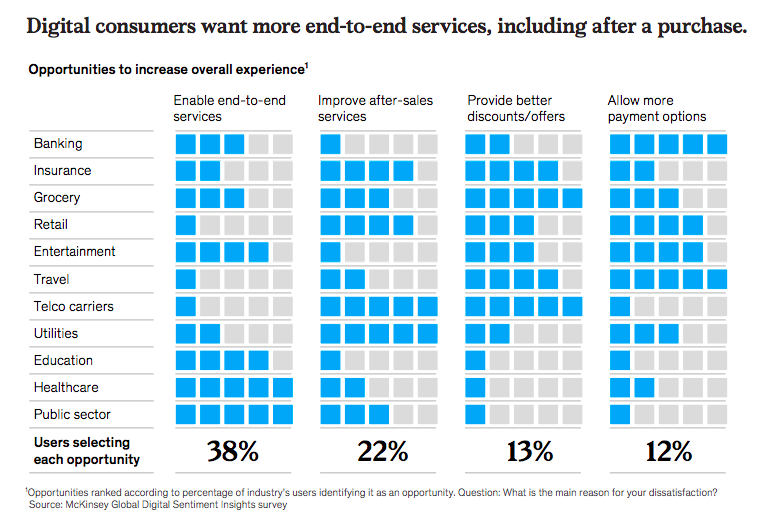 More than twice the number of consumers say that the best way to improve the user experience is by offering fully end-toend digital services—including services offered after the sale—with less friction along the way. This finding once again varies by industry. In the education, grocery, and healthcare industries, along with the public sector, consumers want a more complete digital journey, from initial awareness to the end of the sale and beyond. In the apparel and general retail and telecommunications industries, better after-sales service will improve the user experience, according to the survey. Banking and travel customers want more payment options, while consumers in the grocery, insurance, telecommunications, and travel industries prefer better product and service offerings at discounted prices.