The SME Fund – Up to a maximum of €1,000 reimbursement on trade marks and design
03 February 2023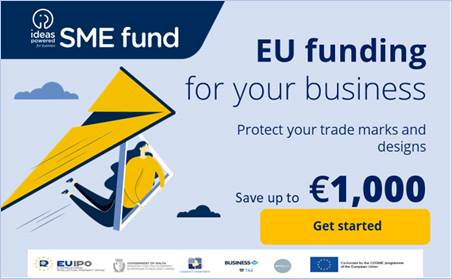 The SME Fund, a European Commission initiative implemented by the European Union Intellectual Property Office (EUIPO) has been launched once again this year and will run from 23 January 2023 to 8 December 2023. Funds are limited and available on a first come, first served basis.
The SME Fund offers financial support to SMEs established in the European Union. The application can be filed by an owner, an employee or an authorised representative of an EU SME acting on its behalf.
In this regard, the Commerce Department is collaborating with the EUIPO to offer financial support/grants to those SMEs by providing 75% reimbursement of trademark and design fees at EU and national level. The grant consists of a partial reimbursement of costs to the beneficiary, up to a maximum of €1,000 per beneficiary in the case of trademarks and designs. Vouchers related to patents are financed by the European Commission's financial contribution, and the modalities are still being fine tuned.
Applicants can apply at any point in time from 23 January 2023 to 8 December 2023.
It is important to note that vouchers are not retroactive, costs for activities executed before getting the grant decision cannot be reimbursed.
Should all the funds be used before the end of the call submission period, the online application system (eForm) will be closed and applicants will be informed accordingly on the SME FUND website.
Applicants will need to click on https://euipo.europa.eu/ohimportal/en/online-services/sme-fund and proceed with filling the relative application form. After receiving the voucher, the SME can apply for their trademark and/or design on https://ips.gov.mt/ or for an EU application on https://euipo.europa.eu/ohimportal/en/apply-now and thereafter, for the reimbursement with the EUIPO.
More details can be found at: https://euipo.europa.eu/ohimportal/en/online-services/sme-fund