State of the Union: Five key takeaways from Ursula Von der Leyen
17 September 2020
Key points from von der Leyen's state of the union speech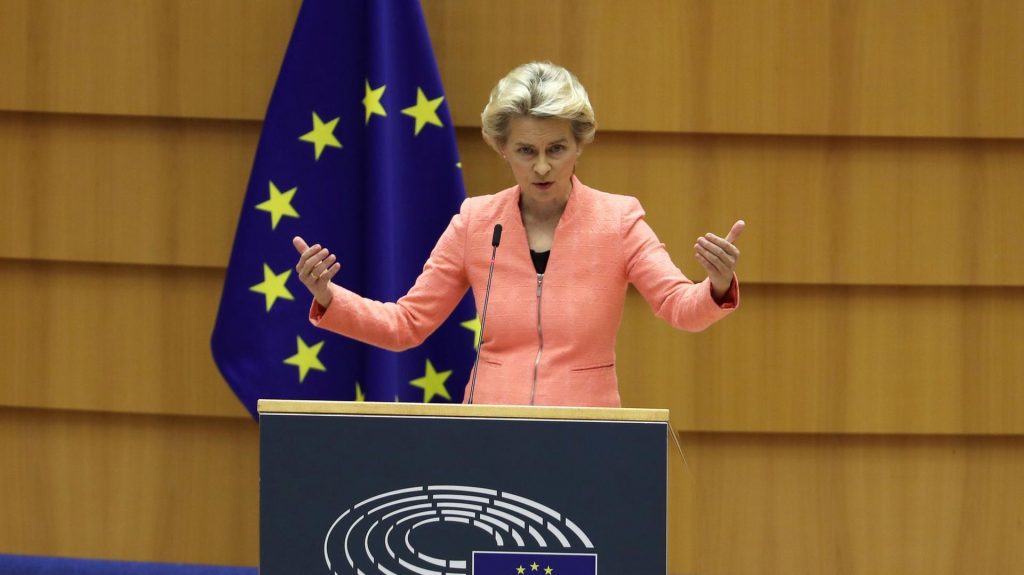 EU chief Ursula von der Leyen promised a new target for cutting greenhouse emissions in Europe, delivering her first landmark State of the Union address on Wednesday.
The European Commission President said Europe must protect lives and livelihoods amid a resurgence of the coronavirus pandemic.
Outlining the Commission's priorities for the coming year, she also addressed human rights, migration, Brexit and tomorrow's technology.
Key points from von der Leyen's state of the union speech
On greenhouse emissions, von der Leyen set a reduction goal of 55% by 2030, significantly higher than the current target of 40%.
She promised to protect lives and livelihoods, stabilise the economy and rally the global response to the coronavirus pandemic.
The Commission president proposed building a stronger European Health Union with various measures to strengthen cross-border coordination.
Von der Leyen said there would be a new approach to migration with a "new pact", calling on member states to "step up too" and take responsibility.
The president promised a more assertive EU response to global events and not to compromise on human rights, discrimination and hate.
The EU will take more leadership in the digital transformation, especially on data, technology and infrastructure.
On Brexit, she had a warning for the UK over the agreed and ratified divorce agreement: "It cannot be unilaterally changed, disregarded or disciplined. This is a matter of law and trust and good faith."
The speech came at a time when the challenges facing Europe and the European Union are enormous. The coronavirus pandemic is continuing to cause havoc across the continent, threatening a major health and economic crisis in the winter.
Source: Euronews