SME Chamber and Malta Enterprise organises a Webinar on grants for cost saving investments
08 February 2022
Malta Enterprise offers 3 schemes related to sustainability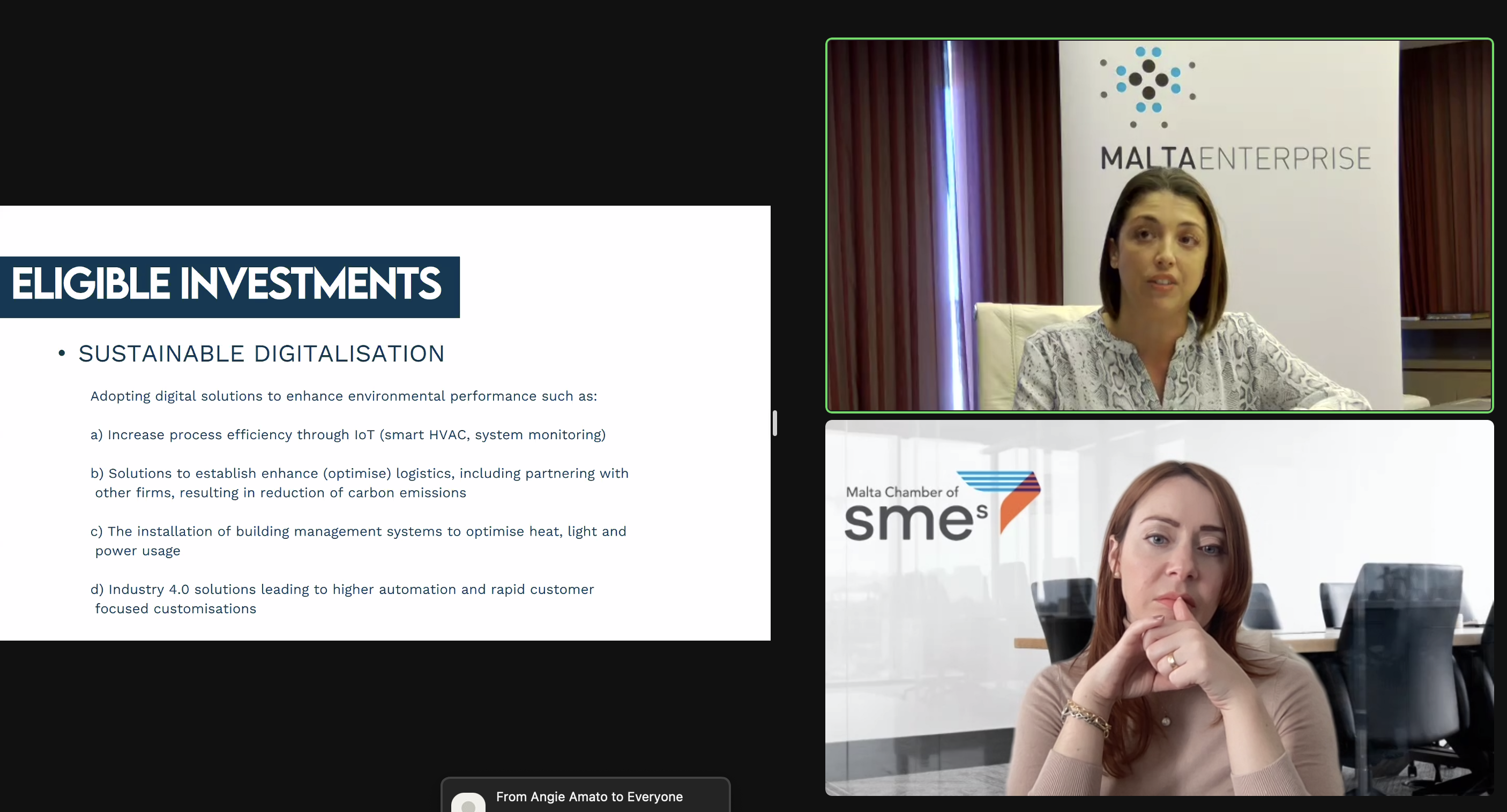 The Malta Chamber of SMEs and Malta Enterprise organised a webinar about the available grants for cost saving investments.Malta Enterprise CEO Mr Kurt Farrugia welcomed all participants during his opening speech, while Ms Nadia Grech, Head, SME Regeneration and Sustainability at Malta Enterprise explained further about the following schemes:
-Change to Grow
-Smart and Sustainable Investment Grant,
-Investment Aid for Energy Efficiency Projects
Although all schemes qualify for cost saving investments, the assistance covered varies. The Change to Grow Grant covers up to Euro 10,000 which is split between advisory and implementation. Businesses requiring a large investment, can opt for the Smart and Sustainable Investment Grant which covers up to Euro 50,000 grant with an additional Euro 20,000 in tax credits if the projects meets certain criteria. One may opt to benefit from the advisory services covered under the change to grow and the grant under the smart and sustainable grant scheme for the implementation phase.
Finally larger investments requiring more resources such as the Investment in substitution or upgrading of equipment and installations to reduce energy consumption or the Renovation or upgrading of equipment of existing installation for heating (or cooling) systems can fall under the Investment Aid for Energy Efficient Projects which covers grants up to 15 million and covering up to 50% of the investment cost.
During the Webinar, members where provided with case studies, in order to understand better how the above schemes can be successfully applied, thus ensuring more cost saving initiatives for the benefit of their business.