MCESD, of which the SME Chamber is a stakeholder, discusses Public Procurement
17 April 2023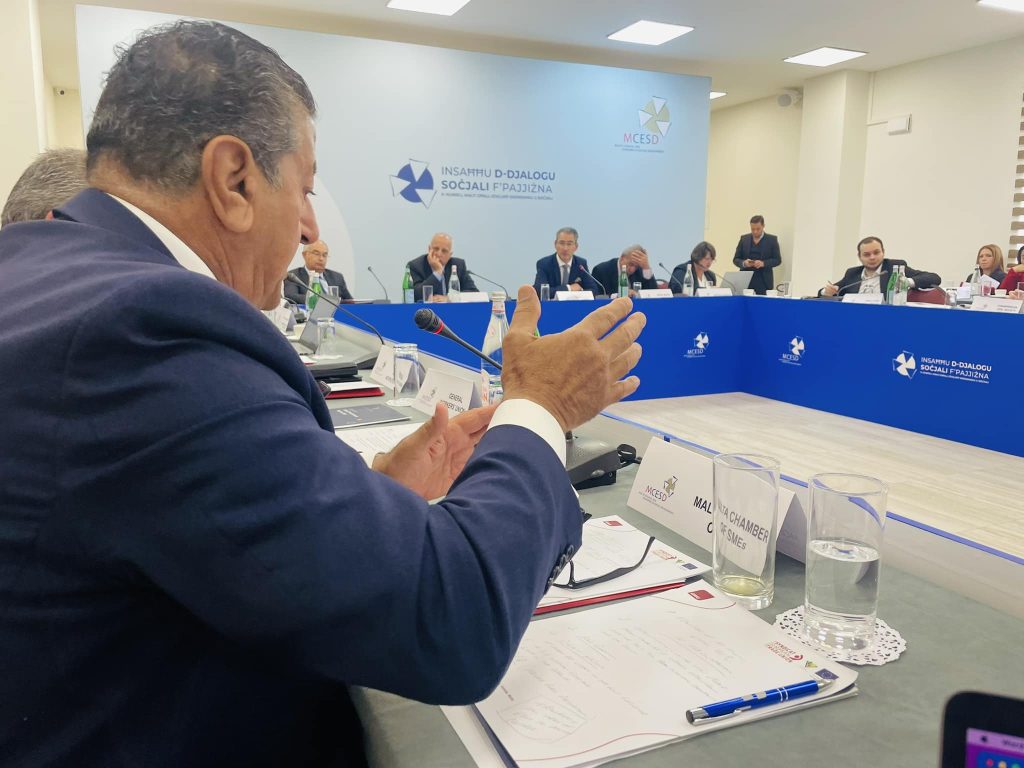 SME Chamber President Paul Abela attending MCESD – Malta Council for Economic and Social Development and reacting on the subject of Public Procurement.
Mr Abela emphasised on the need to be more transparent and ensure that the process is a healthy one. This includes greater visibility of direct orders.
MCESD was hosted for the first time by one of its social partners the General Workers' Union. MCESD addressed two priority matters for the country with the help of expert research and analysis (1) the value expected to be extracted for Maltese citizens through Public Procurement and (2) the expected reshaping of National Skills to drive national economic ambitions.
The National Audit Office (NAO)'s perspective on public procurement in Malta was presented to the social partners by the Auditor General, Mr. Charles Deguara who highlighted the significance of the steps that need to be taken to strengthen good governance in public procurement.  The Auditor General referred to the content of the two most recent NAO reports, titled: An evaluation of performance audits in the public sector: Common Audit Findings 2017–2020 and Report by the Auditor General on the Public Accounts 2021 (Dec 2021). Mr. Deguara's main recommendations covered transparency, equal treatment, value for money, and control. He also addressed the citizens' right to know what is being spent in the public sector.  The National Audit Office looks forward to extending the cooperation on many fronts within the MCESD.
The meeting then followed to hear and consider research, analysis and recommendations on Malta's Public Procurement system. The discussion emphasised the significance of transparent and accountable public procurement in the interest of ethical business and the tax-paying citizens. During the meeting a number of strong and concrete reform recommendations were made, one of which was to strengthen the Department of Contracts with enough knowledgeable staff with skills that span drafting to post-award scrutiny with established KPIs.
The social partners made a number of observations and recommendations on this very important subject, including the significance of transparency, the importance of employees' rights, and the aspiration that small enterprises should receive greater support and consideration.
The second part of the meeting focused on the actions to be taken to improve National Skills. The social partners were given a presentation by the director of the National Skills Council (NSC), Ms. Ruth Debrincat. During this presentation, the social partners were given information about the mission and vision of this new council to define and support the skills necessary to support Malta's ambitions.  To achieve this, the social partners requested improved engagement and continuous communication, especially now that the NSC has become an executive council.  T