Malta Chamber SMEs President participates during SME United's General Assembly
18 June 2021
The General Assembly was addressed by the Vice-President of the European Commission, Maroš Šefčovič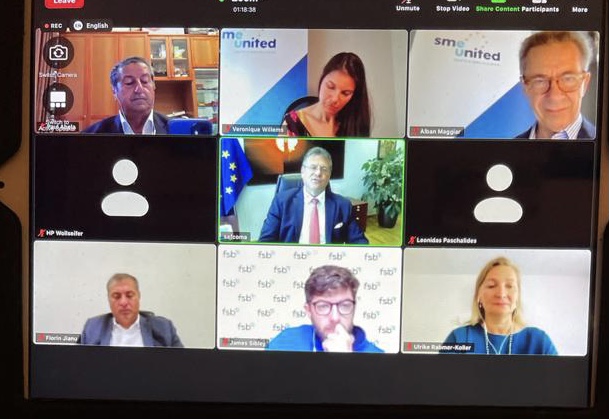 Malta Chamber of SMEs President Mr Paul Abela, participated during SMEunited's Administrative Council and General Assembly as Vice President of the SME's umbrella organisation in Europe with around 65 member organisations from over 30 European countries.
SMEunited is a recognised employers' organisation and European Social Partner and acts on behalf of crafts and SMEs in the European Social Dialogue and in discussions with the EU institutions.
The General Assembly was addressed by the Vice-President of the European Commission, Maroš Šefčovič.
In their conclusions, SMEunited members called for a speedy recovery that can support the twin transition. Moreover, they ask for a better regulatory environment and skills development as prerequisites for SMEs' competitiveness.
– Concretely, SMEunited members stressed that National Recovery and Resilience Plans should include the necessary reforms to improve investment attractiveness, the quality of public services and the efficiency of administrations.
– Secondly, on the "Fit for 55 Package", they urge the EU institutions for a regulatory environment which ensures competitiveness, a level playing field, predictability for investors and which encourages innovation.
– In addition, SME organisations focus on life-long learning and continuous training, as key factors to increase the employability of people and the competitiveness of companies. These programmes are best designed and implemented at national, regional and/or sectoral level in close cooperation with social partners.
– As a fourth element, SMEunited members raise the issue of fairness when it comes to relations with digital platforms, emphasising access to data.
– Finally, SMEs demand Smart regulation. They are concerned that new regulatory burdens will hold back the recovery and hinder an effective transition to a green and digital economy.
The bureaucratic burden of every proposal should be analysed systematically, making use of the SME test and the One-in-One-Out principle. "The recovery must contribute to remodel our economy in light of the green and digital transition. Policy measures must strengthen the capacity of SMEs to innovate and invest and must avoid new regulatory burden to allow for a successful recovery and transition", emphasised President Alban Maggiar.
He concluded: "It is time to move from words to action. The ambitious European goals are made reality on the ground by SMEs. Crafts & SMEs are the heart of Europe, we must provide them with the appropriate framework and give them the chance and resources to put these objectives into practice".