Malta Chamber of SMEs and CRPD presents results on online accessibility
26 May 2023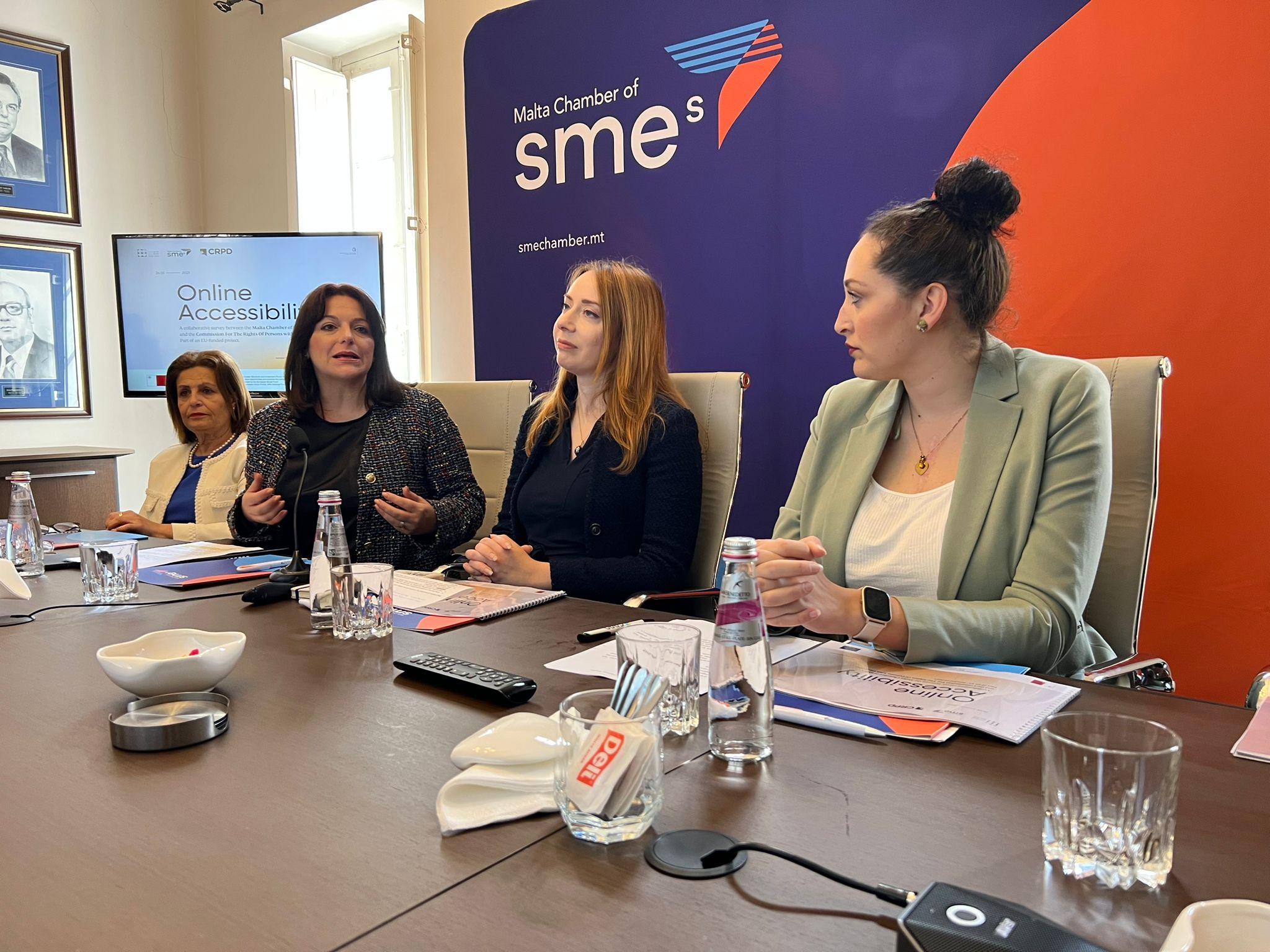 A Press Conference was held on May 26th, organized by the Malta Chamber of SMEs in collaboration with CRPD. The purpose of the conference was to present the findings of a survey conducted by the Malta Chamber of SMEs among its members regarding Web Accessibility.
The attendees at the Press Conference included Hon Julia Farrugia Portelli, Permanent Secretary Ms. Nancy Caruana, CRPD Commissioner Ms. Samantha Pace Gasan, and two representatives from FITA.
A significant number of survey respondents expressed their willingness to improve the accessibility of their websites for people with disabilities, particularly through financial assistance and support programs. However, the main challenges identified by businesses in enhancing website accessibility were financial constraints, a shortage of staff, and a lack of information and expertise on how to make websites more accessible.
During the Press Conference, the Malta Chamber of SMEs and CRPD provided the following recommendations based on the survey findings, recognizing that the survey serves as an initial step in identifying areas for improvement in online accessibility:
The recommendations are:
* Revise the Web Content Accessibility Guidelines to be more user-friendly.
* Further collaboration between the government and stakeholders to organize outreach activities aimed at educating the business community about Web Content Accessibility.
* A quality mark acknowledging and rewarding businesses that have achieved web accessibility.
* Additional initiatives and financial assistance should be introduced to assist businesses in meeting the requirements of existing laws regarding accessible website content.
* A Help Desk for businesses seeking to improve the accessibility of their websites.
* Compilation of a list of service providers, through FITA or other, that can effectively aid in the process of enhancing website accessibility.
Click here to view Press Conference