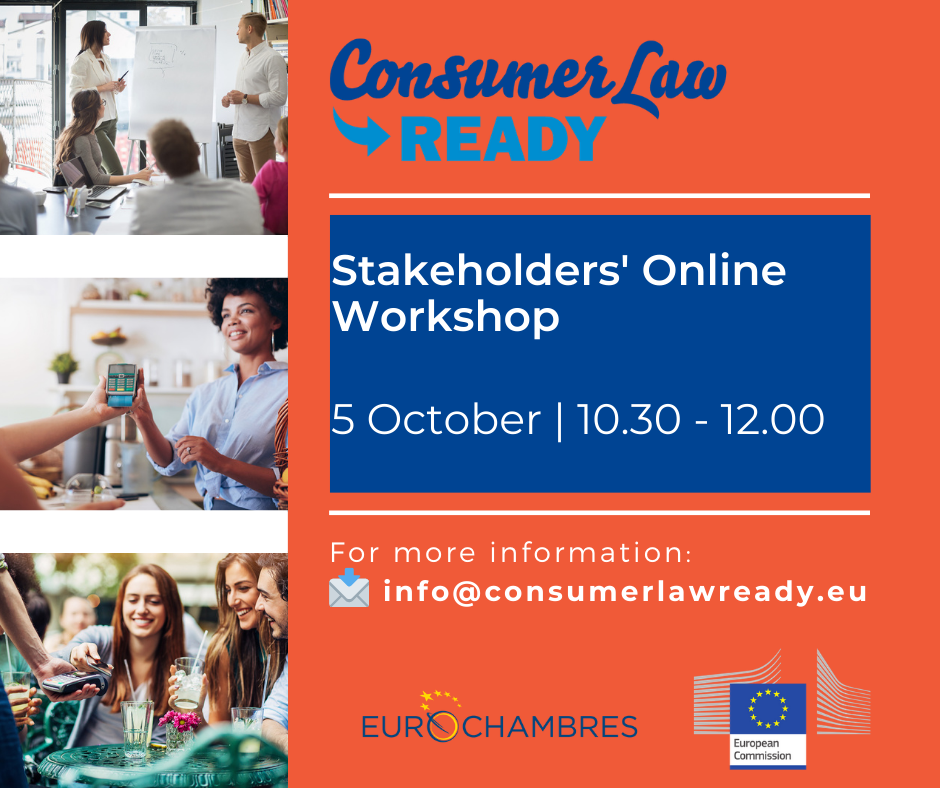 Consumer Law Ready – Stakeholders' Online Workshop
23 September 2020
05 October 2020
10:30 am
Online
On October 5, 2020, from 10,30 to 12, EUROCHAMBRES, in collaboration with BEUC and SMEunited is organising a Stakeholders' workshop in the framework of CONSUMER LAW READY project.
WHAT IS CONSUMER LAW READY?
Consumer Law Ready (www.consumerlawready.eu) is a specialist training programme for SMEs, supporting them in complying with the latest EU Consumer Laws. The training enables you to gain knowledge of the important aspects of Consumer Law, which will help to improve customer service and increase consumer trust in your business.
This event will take the format of a panel with Q&As along the following objectives:
Discovering more about the programme and its opportunities, getting feedback on how to further develop it;
Sharing views of SMEs, consumers and EU representatives on what COVID 19 means for entrepreneurs;
Discussing about possible responses to the current crisis and suggesting instruments for dealing with
Informing about upcoming initiatives in the field of consumer law: Consumer Agenda; Empowering consumer for the green transition; Review of Consumer Credit Directive; Review of General Product Safety Director.
Agenda: https://bit.ly/32U0SOB
The event is free of charge. Register here: