ESG SKILLS : The Future of the European Economy; Panel discussion & networking
25 April 2023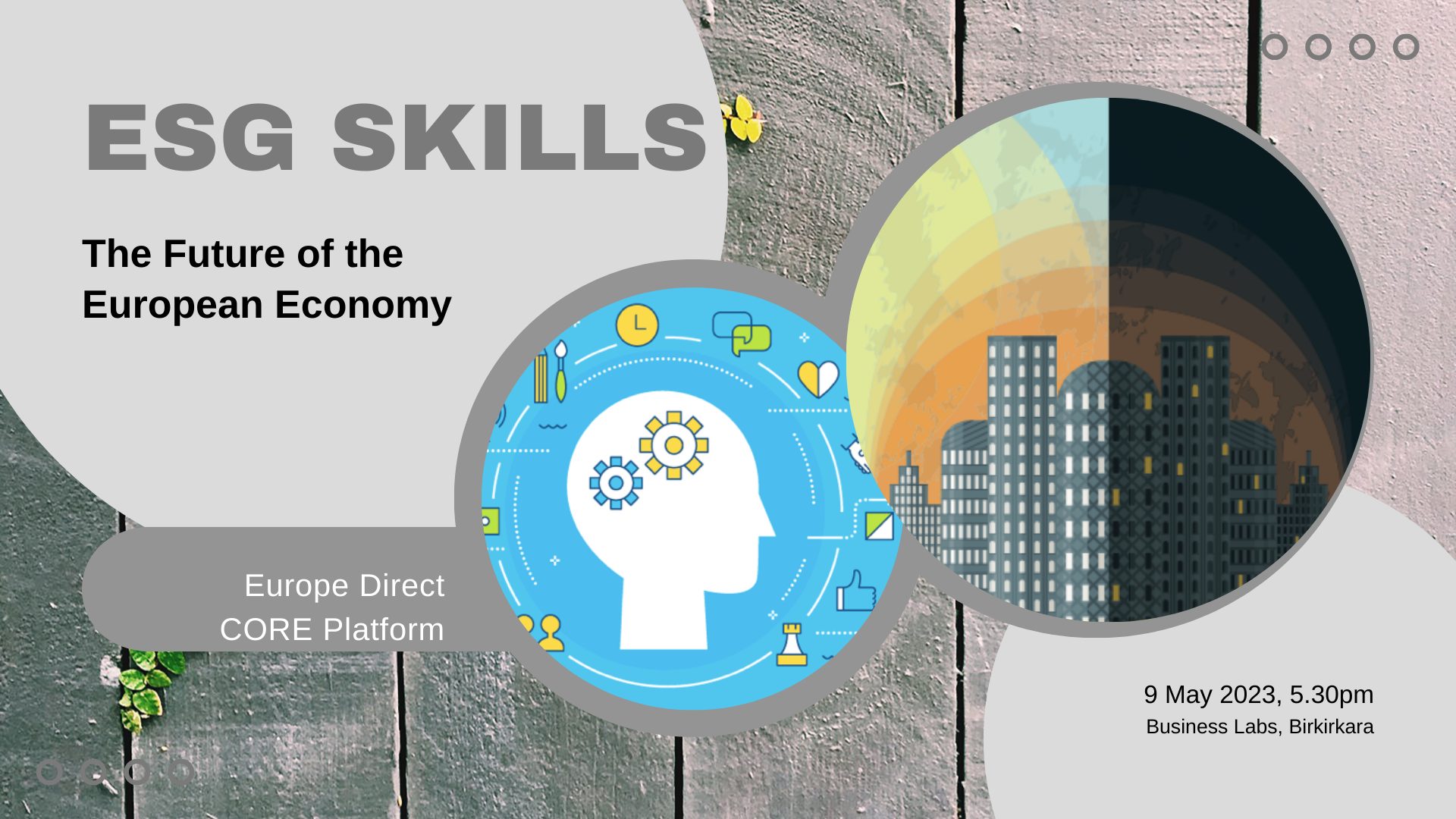 ESG skills refer to the abilities and knowledge required to effectively address environmental, social, and governance (ESG) issues in business and investment decisions. These skills include an understanding of sustainability principles, environmental management, social impact assessment, stakeholder engagement, ethical business practices, and corporate governance.
ESG skills are important because they enable individuals and organizations to make informed decisions that integrate sustainability and social responsibility considerations into business and investment strategies. By possessing ESG skills, individuals can identify and mitigate risks related to climate change, social inequality, human rights abuses, and other ESG issues that can impact financial performance and reputation.
Furthermore, the demand for ESG skills is growing as investors and stakeholders increasingly prioritize sustainability and social responsibility considerations in their decision-making. Employers across various industries are also recognizing the importance of ESG skills and seeking professionals with these competencies to drive sustainable and responsible business practices.
ESG considerations are becoming increasingly important in the European economy, and are expected to play a major role in shaping its future. The European Union (EU) has set ambitious targets to achieve net-zero greenhouse gas emissions by 2050, which will require significant investment in sustainable technologies, infrastructure, and business practices.
ESG considerations are also becoming more integrated into investment decisions in Europe, with sustainable finance becoming a key focus area. The EU has developed a taxonomy that defines sustainable economic activities and aims to provide investors with clarity on which investments are truly sustainable. This taxonomy is expected to drive investment towards sustainable assets and away from environmentally harmful activities.
In addition, ESG considerations are increasingly being incorporated into corporate governance frameworks in Europe. Companies are expected to be transparent about their ESG risks and opportunities, and to engage with stakeholders to address these issues. This will likely lead to more accountability and responsible business practices, which will ultimately benefit the European economy and society as a whole.
Overall, ESG considerations are likely to play a critical role in shaping the future of the European economy, as they will drive sustainable investment and responsible business practices, which are essential for long-term economic growth and social well-being.
On the 9th of May, in celebration of Europe Day, Europe Direct CORE Platform will be organizing a panel discussion during which these themes will be discussed. Ms. Helga Ellul, President of CORE Platform, will open the event. The panel will consist of ESG experts and high profile business leaders and stakeholders, including Mark Bajada, Matthew Caruana, Matthew Spiteri, Gabriella Borda, Morgan Parnis and Joseph Micallef. Martins Zemeitis, European Semester Officer at the European Commission Representation Office in Malta, will close the event. ESG Expert and Europe Direct CORE Platform Manager Dr. Roberta Lepre will facilitate the discussion. The event is being held at Business Labs, Birkirkara. Drinks and finger food will follow. Participants are required to register by not later than the 5th May 2023.